---
IT'S ONE OF THE TOP-SELLING OUTDOOR PRODUCTS FOR A REASON!
You want to enjoy your outdoor experience, and that means that you need to get a good night's sleep, even if you're camping on the uneven or unhospitable ground. How do you guarantee good rest while you're out in the great outdoors? With the Mattress Pro!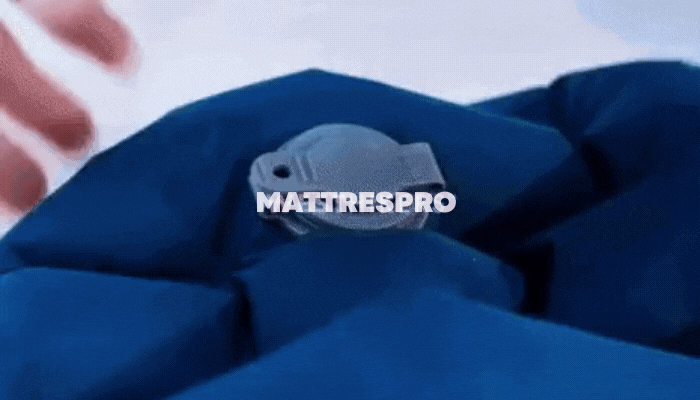 After a long day exploring the wonders of Mother Nature, you'll sleep like a baby on 2.2 thick inches of comfortable, resilient mattress.
WHY MATTRESS PRO?
1. Unsurpassed Comfort: The Mattress Pro™ is designed with 144 individual air cells, allowing it to conform to the shape of your body for superior support and comfort while you sleep. Now you can enjoy a day or a week outdoors without waking up sore and exhausted. Thorough testing has helped us craft a design that is going to let you sleep soundly almost anywhere.
2. Superior Durability: Air mattresses can pop, but the Mattress Pro is designed with a double-layer material that prevents punctures and is tough enough for a night almost anywhere. It's resistant to moisture, high and low temps, and it's built with uneven ground in mind.
3. Easily Portable: When it's deflated and stored away, the Mattress Pro takes up the same amount of space as the average water bottle. Get rid of that bulky mattress strapped to your back and try something that's truly convenient.
4. Protection from Low Temperatures: The multi-layered design of the Mattress Pro helps to inhibit the transfer of temperature between you and the ground. No matter how chilly the terrain might be, you'll stay cozy thanks to the 4.2 R-value of this mattress. Keep your body heat to yourself all night long!
5. Lightweight Design: The average outdoor mattress weighs anywhere between 1 and 2 kgs (or 2 to 5 pounds), but Mattress Pro weighs in at a very reasonable 500 grams (just over 1 pound)! Now, you don't need heavy gear just to get a good night's sleep.
6. Integrated Pillow: A supportive pillow is essential to maintaining proper spinal alignment while you sleep, and the Mattress Pro's integrated pillow is always right there when you need it. Made with the same durable, multi-layered design, you'll get proper support and comfort, ensuring more restorative rest.
OUR GUARANTEE
We've worked hard to deliver the very best products to thousands of customers all over the globe. We stand behind everything we offer, and if for some reason you aren't 100% happy with your purchase of The Mattress Pro™, send it back to us within 30 days after arrival for a full refund.
If you want to hear what others say about Mattress Pro™, check out the reviews below. They're all genuine reviews from customers just like you. 
WHAT PEOPLE SAY ABOUT US
⭐⭐⭐⭐⭐
"Perfect for a hiking getaway. I bought two, one for me and the other for my wife, we love to go once a month to Yellowstone and wonder. We decided to start sleeping in tents and needed to find a sleeping mat. This at first looked like it won't be the best but, boy I was wrong. It is so easy to carry around and it is as comfy as it looks. Made our first camping trip, actually sleeping outside, the best we could have hoped for."